Your feedback submitted through our Site Reviews system is priceless. Thousands of reviews have been published by our members. If you are a site owner, you can use these recommendations to improve your program.
Authors of 20 or more quality reviews per day will be rewarded with bonus credits, banner impressions and text ad impressions on March 27.
Top 3 reviewers will receive 1 month of Premium membership each. Our team will pick the winners based on the quality of reviews.
Mini reviews such as "OK", "Cool", "Good", etc. do not qualify for promo bonuses (but are still acceptable if that is all you have to say about the site). To review a site during surfing simply click on the reviews icon in the left corner below the surfing image and submit your personal review of this website.
You can also review sites from your
surfing log
and from
Favorites
in the "Statistics" section.
Review websites and receive bonuses
* Promotion ends this Sunday, on March 26.
The most effective promotion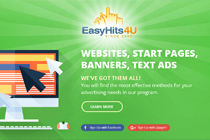 Our designers prepared many different banners, peel away ads, splash pages for you to use. You can find them on the
"Promo Tools" page
.
Recruit new referrals to your downline at EasyHits4U and earn credits on autopilot!
Our Drawing Winner
Congratulations to this week's winner
Yankeefan961
who received 5000 bonus credits + 5000 banner impressions + 5000 text ad impressions.
For every 1000 credits you purchase, you
receive one ticket
for the drawing! The Weekly Drawing Prize is 5000 credits + 5000 banner impressions + 5000 text ad impressions (a value of $33.95) every week.
The Monthly Drawing Prize is 6 months of Premium membership (a value of $41.95) or 3 months Ultimate membership (a value of $54.95) for Ultimate members.