Did you know that you can send bonus credits, impressions or even money in your messages to your first level referrals? You can even set an expiration date for your message.
Unused credits, impressions or money will automatically be transferred back to your account balance when your ad campaign expires.
Quality Traffic
Our main goal is to deliver quality traffic to your sites and ads. In addition to Clean Surfing
*
, our own site approval system, which rejects bad sites on their submission, there is a variety of intelligent security tests in the EasyHits4U back-office.
No multiple accounts, no automatic surfing, no minimized surfing window, no cheating. Any member violating our Terms is automatically being blocked by our tough anti-cheating system.
*
Clean Surfing is our own system with detection of hundreds of bad code patterns, integrated Google Safe Browsing service and 2500+ entries in our block list.
It rejects 98% of bad sites right at their submission.
Offer Walls
Have you seen our Offer Walls in
My Offers
section (left menu in your account)?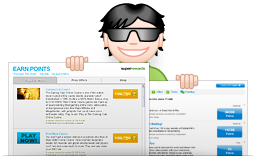 You can get offer points by completing the special offers from world-class offer platforms. These points can be converted into credits, banner or text ad impressions, and days of Premium membership right after the initial transaction.
Please carefully read the requirements of each offer on the Offer Wall. Some rewards are instant and some offers may be completed with pre-defined delay.
Our drawing winner
Congratulations to this week's drawing winner
Incor
who received 5000 bonus credits + 5000 banner impressions + 5000 text ad impressions.
For every 1000 credits you purchase, you
receive one ticket for the drawing
! The Weekly Drawing Prize is 5000 credits + 5000 banner impressions + 5000 text ad impressions (a value of $33.95) every week.
The Monthly Drawing Prize is 6 months of Premium membership (a value of $41.95) or 3 months Ultimate membership (a value of $54.95) for Ultimate members.