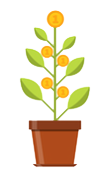 Starting early July, the Rewards Program and coupon bonuses are applied combined! It means that if you have a 15% bonus in our Rewards Program and a 10% bonus with a current coupon, you receive both bonuses, not just the larger one!
And it gets better — when you use your coupon with a subscription, the bonus will be automatically applied to all future payments with that subscription. You get more than just an ordinary one-time coupon bonus!
Current Weekly offer for our upgraded members: 300% bonus text ad impressions on any 2500+ credit purchase. It can be found to the right of the "Start Surfing" button.
And here is the weekly coupon for all our members:

XlMDmAZzviTJ
— 250 bonus credits on any 2500+ credit purchase.
Expires on August 1st. If you purchase a subscription with this coupon, then 250 bonus credits will be added to every scheduled payment on this subscripton.
Referral Contest

With our recently launched Referral Contest we notice more and more EasyHits4U ads all over the world.
Top 10 referrers will receive
5,000 credits + 50,000 banner impressions + 50,000 text ad impressions + one month of Ultimate membership + free advertisement and publicity from our newsletter.
The actual value of credits, impressions and Ultimate is
$107.90
if you were to buy it separately. Contest ends in a week, on August 3.
Our drawing winner
Congratulations to this week's drawing winner
Ranijarkas
who received 5000 bonus credits + 5000 banner impressions + 5000 text ad impressions.
For every 1000 credits you purchase, you
receive one ticket for the drawing
! The Weekly Drawing Prize is 5000 credits + 5000 banner impressions + 5000 text ad impressions (a value of $33.95) every week.
The Monthly Drawing Prize is 6 months of Premium membership (a value of $41.95) or 3 months Ultimate membership (a value of $54.95) for Ultimate members.