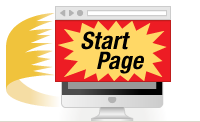 Our Start Pages receive more attention from our surfers because they are being shown first. Only for today, Cyber Monday, we offer a $10 discount to all our Start Page positions.
Submit your link as our Start Page and receive
15,000-20,000+
visits per day without using any of your credits. The actual price for such amount of traffic is between $88 and $100.
Current prices are:
$51
- for the First Start Page position;
$48
- for the Second Start Page;
$45
- for the Third Start Page.
(Not including 7+ days and Rewards Program discounts)
Promote your link as our Start Page