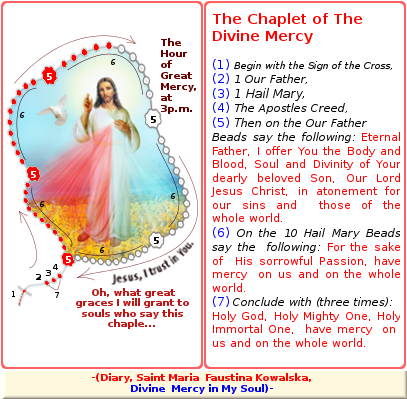 "....When they say this Chaplet in the presence of the dying,
I will stand between My Father and the dying person not as
the just judge but as the Merciful Savior".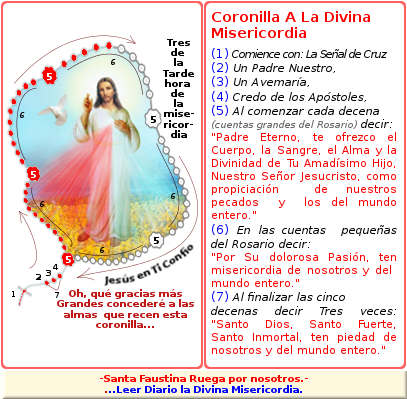 "Escribe: cuando recen esta coronilla junto a los moribundos,
Me pondré entre el Padre y el alma agonizante no como el Juez justo
sino como el Salvador misericordioso"
"Alienta a las personas a decir la Coronilla que te he dado... Quien la recite recibirá gran misericordia a la hora de la muerte. Los sacerdotes la recomendaran a los pecadores como su último refugio de salvación. Aun si el pecador mas empedernido hubiese recitado esta Coronilla al menos una vez, recibirá la gracia de Mi infinita Misericordia. Deseo conceder gracias inimaginables a aquellos que confían en Mi Misericordia."

"A las almas que recen esta coronilla, Mi misericordia las envolverá en vida y especialmente a la hora de la muerte"
(Diario la Divina Misericordia en mi alma Santa Faustina)
Leer mas: EWTN
Prayer For Poor Souls In Purgatory
Eternal Father, I offer thee the most precious blood of thy divine son, Jesus, in union with the masses said throughout the world today, for all the holy souls in Purgatory. Amen.
Our lord told st. Gertrude the great that the following prayer would release 1,000 souls from purgatory each time it is said.
Padre eterno, yo te ofrezco la preciosisima sangre de tu Divino Hijo Jesus, en union con las misas celebradas hoy dia a traves del mundo por todas las benditas animas del purgatorio. amen.
Nuestro Señor le dijo a Santa Gertrudis la Grande, que esta oración puede librar 1000 almas del purgatorio cada vez que se rece.