Violent Faith

Recently formed in 2010 in the tri-cities area with
Gary Thomas Hoag, Tracy Kerbuski, Dan Pukett
and Lonnie Pearo, who with many years of combined
experience are compiling their full length album.

Tracy Kerbuski a founding member of Drop Hammer (Metal Blade Recs.),
Steel Vengeance (Black Dragon Recs. & Giant Recs.), Bold Face, Ten Ton Krush, and with Dan Puckett & Lonnie Pearo in 4U2NV and Game On.. has teamed up with
local friend and guitarist, Gary Thomas Hoag, formerly of: Shadow Status, Touch Hole, Driven,
4U2NV, Unearthed, and Hyatus.


Taking unreleased and new songs into the studio to mix there styles together to represent… Violent Faith.

These reproduced and remastered songs will be out later as their first full length album together. What you hear here is subject to change when the new versions are released.

Always remember to Keep the Faith
as we are only human.
To buy CDs, Shirts, Hoodies, Posters, Laptop carry bags and MORE!...

Visa, Debit Card, PayPal, Money Order Secure, Trusted Checkout & Delivary
This Reverbnation Player plays automatically, you can turn it off by clicking the "stop button" in the player's window below. You can also Tab through all of our information on Reverbnation by clicking on the tabs at the top of the player. This will not take you off of this page, but will show you the contents in the player window. Thanks and Enjoy! VF.
Violent Faith Rightly Abuse
******************************
Sound Percussion Drums & Heads
DigiTech Guitar Pedals & Wahs
Schecter Guitars & Basses
Hughes And Kettner Amplifiers
Gator Cases & Powered Pedal Boards
Seismic Speakers & Cabinets
******************************
CONTACTS
MANAGEMENT : Tracy Kerbuski + Gary Thomas Hoag
BOOKING : (North America / Canada)
Tracy Kerbuski: tracykerbuski@yahoo.com
Phone: 231-955-5277
PRESS & PROMO : Gary Thomas: gtom410@gmail.com
******************************
Hire Rock Bands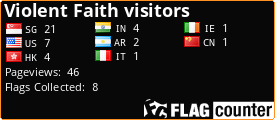 Violent Faith uses Viral Music Promotion: