Violent Faith

Formed in 2010, the band Violent Faith started out with founding members Gary Thomas Hoag and Matt Orcasitas, after a few months James Fedel and Tradd Hildreth would join the group to round out the members.

In 2011, Matt Orcasitas and Tradd Hildreth would leave the group as they were presented with another opportunity for advancement. Gary and James tried to reform at this time with new members but eventually went there separate ways.


In 2012, Violent Faith was reformed / refounded under new leadership with Gary Thomas and Tracy Kerbuski. At this point Lonnie Pearo and Daniel Puckett were added to the line up. Revising some of Tracy Kerbuski's songs from his former bands; "Game On" and "Ten Ton Krush". These songs were rewritten to some extent by Gary and Tracy and were being promoted and supported by the band.

In late 2012 early 2013, Lonnie Preao left the project to pursue other avenues while Dan Puckett was let go due to personal reasons. At this point two new members were added to the line up, Brent Ferris on bass guitar and Adam Brege on drums.

Forging ahead the band would play one show together with its new members when Tracy unexpectedly walked away from the group in Nov. 2013. The group was placed on vacation for about a month while members decided on what to do.

In December, Gary Thomas was asked to join the group Minus Two and was signed to CME thus placing Violent Faith on hold until further notice.


Always remember to Keep the Faith!
.
To buy CDs, Shirts, Hoodies, Posters, Laptop carry bags and MORE!...

Visa, Debit Card, PayPal, Money Order Secure, Trusted Checkout & Delivary
This Reverbnation Player plays automatically, you can turn it off by clicking the "stop button" in the player's window below. You can also Tab through all of our information on Reverbnation by clicking on the tabs at the top of the player. This will not take you off of this page, but will show you the contents in the player window. Thanks and Enjoy! VF.
Violent Faith Rightly Abuse
******************************
Sound Percussion Drums & Heads
DigiTech Guitar Pedals & Wahs
Schecter Guitars & Basses
Hughes And Kettner Amplifiers
Gator Cases & Powered Pedal Boards
Seismic Speakers & Cabinets
******************************
CONTACTS
MANAGEMENT : Gary Thomas Hoag
BOOKING : (North America / Canada)
Gary Thomas: gtom410@gmail.com
PRESS & PROMO : Gary Thomas: gtom410@gmail.com
******************************
Hire Rock Bands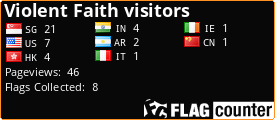 Violent Faith uses Viral Music Promotion: